UniteLight
UniteLight is an app that helps you find your friends in a crowded place. Pick a song, send a text, and your friend's camera flashes to the beat.
Purpose: Unitelight was created as an answer to the problems facing concertgoers everywhere.
Objective: Creating something with a team of three developers in 24 hours is an exciting challenge in itself, yet moreso when knowing that if successful, your product could be exposed to 200k users. Unitelight not only won the Outside Hacks competiton, but was launched in the app store in less than two weeks after conception.
Approach: The first thing I always ask myself when presented with a 24 hour challenge is the same thing I ask myself when presented with a 3 month challenge: Who is this for, and why and how will they use it? We knew that the last thing people wanted to do was have to go through a lengthy signup when looking for their lost friends, therefore the entire process had to be easy, and very light to prevent any kind of user friction.
Who and what: I worked with three developers and created, branding, logo, and all designs and flows for the app.
Research and ideation: Interviews conducted and surveys taken made us realize that we needed a user journey that was effortless and removed any unnecessary steps so that users could find their friends. We chose this solution as it was a pain point concert goers kept bringing up.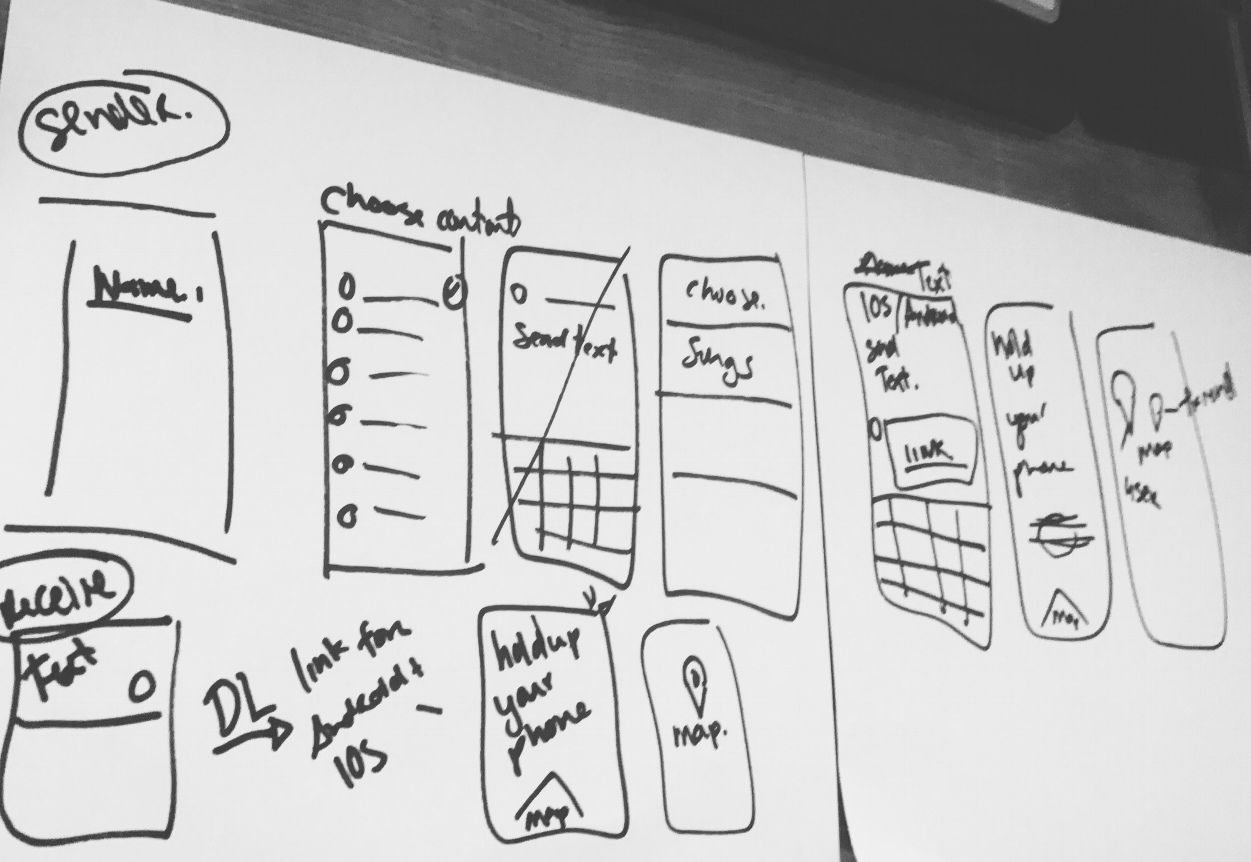 Knowing there would be a plethora of distractions at an OutsideLands concert, we avoided having any kind of sign-up process. During iteration we determined that to find a person we would simply need to access their contacts and send a text to a friend telling them to hold up their phone to be found.
We listened to feedback about the prototype from the judges and other participants, changing long, descriptive copy to short, easily understood copy. We also adjusted the on-boarding process to reduce friction.
Prototype and development
Unitelight was a great opportunity to work design and development simultaneously as we improved the core function of the product, and got it ready for both public launch and to integrate with the OutsideLands app. Our intriguing product directed at concert-goers, got us a press mention with Elite Daily.